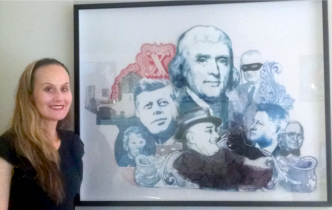 Jennifer Mara - Artist and Graphic Designer
I live in Kansas City, Missouri. I have worked as a graphic designer in the advertising industry for over 15 years, creating ads and campaigns for many different clients. In particular, I have extensive experience in school-themed design and school products for young people.
What I really love to do is be part of a team dedicated to creating strong visual communications, whether it be web or print advertising, Logos and Brand Identity, inter-office forms, direct marketing, flyers, mailings, business cards, etc. I have always had a good sense of color and composition and all my life have been a lover and observer of art and design. I knew when I was 6 that I would be a professional artist.